In my last blog I asserted that a hierarchical control system (HCS) is nature's way of getting things to work together for the good of all. That is, I think, what we want from our government and social system. There is, of course, lots of wiggle room in the phrase, 'good of all'. What is good might depend on who is using the phrase. Nevertheless, we could probably agree that some kind of stability in income prospects, a reasonably comfortable standard of living, health care, and minimizing our fears of an unfair world would count as good things. The question then might be phrased: What kind of governance (remember this means government, economic system, and laws) would achieve this in this day and age?
To probe this question further I want to continue to explore HCS as a natural progression of governance as systems, be they animal brains or corporations, become more complex in a complex world.
A preliminary caveat: If you disbelieve the theory of evolution then you need read no further. Everything said here depends on a clear understanding of both the special evolution of biological species (neoDarwinism) and general evolution of systems. In biology (and the universe) "...nothing makes sense except in light of evolution." Theodore Dobzhansky. [My added perspective.]
Also, if you are a libertarian you can skip this post as it will probably make your blood boil. In fact unless you are open to learning principles from nature you might as well find something else to read, because this post will challenge many fondly held beliefs about governance, free market economies and democratic process. Leave your guns and ideologies at the entrance please.
There is a general law of evolution that goes something like this: As complexity increases an autonomous, adaptive agent (a special kind of dynamic system) must also evolve more regulatory mechanisms in order to maintain stability in the face of a changing environment. Evolution by selection means that any system that realizes less stability internally, or less capacity to remain stable in the environment will not pass into the next generation (or time period). It will either self destruct from within, or be culled from a competitive world.
More complexity, more regulation, both internal (operations) and external (behavior). It really is that simple. And it applies to all agents (systems). Examples in nature and even human organizations abound. In biological evolution this happens at the species level, more or less. But in more complex systems with looser boundary conditions, like ecosystems and corporations, the evolution takes place within the 'body' over a long time scale. Even so the principle of emergence of hierarchical control can be found in all of these systems. [Note: ecosystems are more loosely bounded than corporations and it is trickier to locate the mechanisms of some of the control loops, but they can be found when you know what to look for. I will try to provide a few examples as we go.]
Complexity is defined roughly as related to the number of different kinds of internal components, the number of different kinds of relationships those components can have with one another, and weighted in some way by the total number of each kind of component. Put simply, the more different kinds of things that go on inside a system (say your body) the more complex is that system. Similarly the external environment of the agent can be described in terms of complexity. The more kinds of things that an agent encounters in its environment, and the more kinds of interactions those things can have with each other and with the agent, the more complex the environment is. Both of these complexities have to be considered since the internal complexity determines how well the components work together to maintain the internal stability of the system. At the same time external complexities have to be considered in terms of the system making correct choices and behaving in ways to survive.
Markets are mediums of exchange and nothing more. They are a form of cooperation that works well when complete information is available for all parties. Cooperation is good. It is OK that a market is the only mechanism for achieving cooperation when systems are relatively simple. It also works best when cheaters don't muck up the works. Lately we've had ample examples of how this happens. But if the system is evolving in complexity and into more complex environments, internal cooperation just doesn't cut it.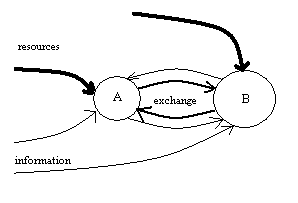 As a system becomes more complex the opportunities for 'honest' competition among internal components increases with a subsequent reduction in both performance and efficiency. At some point in the evolution of a system competition overtakes or overshadows cooperation. Also, as complexity increases, the availability of relevant information degrades. Causal mechanisms become hidden from view and so agents have difficulty discerning the actual value of exchanges.
Sometime prior to the point at which competition begins to predominate and the system begins to break down, some sub-systems emerge as providing an information brokerage service that allows agents to cooperate somewhat better. This service can co-evolve with the agents such that the latter develop adaptive mechanisms internally tuned to the information service supplied by the broker. This is actually the beginning of evolution of control mechanisms - regulators in a cybernetic sub-system.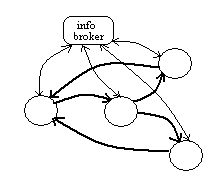 A higher level of regulation, above multiple operational units, evolves the capacity to coordinate the operations of these units. That is the meta-cybernetic sub-system takes over logistical and tactical decision making as I described in the last post.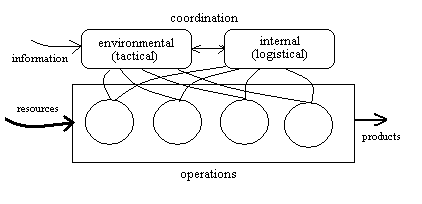 In the case of animal brains this is reflected in the evolution of brain areas devoted to regulating bodily functions, controlling motor outputs, and coordinating appropriate behaviors based on information about the environment. Even very primitive animals have these functions and brains to match. As evolution has proceeded, animals with more elaborate control sub-systems have emerged to deal with more complex environments (niches) and having more complex bodies to do so.
Companies that grow from small operations to giant corporations show the same progression in developing management systems that cover these basic functions (along with strategic management).
Ecosystems have evolved in the fashion of certain species fulfilling roles at various 'trophic', that is, energetic, levels. Some species such as top carnivores regulate the abundance of food species, but in turn, are regulated by the latter in terms of controlling populations in a feedback loop. Logistically, the mixes of species in the system act to regulate the trophic flows.
It is inevitable that for a system to survive in a more complex environment it must develop more complex internal systems and therefore more elaborate regulating sub-systems. Furthermore, those regulators are going to exactly follow the form of the hierarchical control system discussed before. There are deep theoretical reasons for this that I couldn't adequately cover right now. But please believe me, this is the way of nature when it comes to control systems.
How does this relate to the governance of human society? I suspect that we have, through our own ingenuity, created a far more complex world than might have been appreciated by the founding fathers of the US (as one example). In fact I claim that the US government itself, as well as the democratic process for choosing who will participate in that government, has evolved exactly as expected. The various regulatory agencies such as the EPA are responses to the need for coordination level control. This is totally within keeping in the evolution of HCS.
Even the strategic level of control (represented by the prefrontal cortex in the human brain) is established in the Constitution in terms of the triune government model. The federal government fulfills the role of a strategic level control system — or at least it tries to.
The problem we have now is that while these systems are emerging and evolving toward their place in an HCS for social governance, they are still at an early emergence stage. As I have argued previously, the components of the government system are still ordinary human beings who have pretty ordinary levels of sapience or capacity for wisdom. And it isn't adequate for the job. Neither the citizens of such a complex social system nor the public servants they elect are adequately wise to make the right choices in elections and in policy. The government is imperfect, not because it is too big (according to the Republican mind set) or too incompetent in dealing with social issues (according to the Democrat mind set) but that it is based on human agents to achieve cooperation and coordination (and strategic vision). And those human beings are incompetent.
So what is the alternative? That is a good question. Humans are all we have to work with. As long as we formulate strict bureaucracies humans perform OK. We're not asking much of them. But we already know that such systems, like planned economies, and autocratic rule, just don't work either. What can we do to improve the wisdom of government when the wisdom of the individual components is so lacking? To begin to answer this question we have to look at the source of sapience in human brains and how it results in wisdom in the life of the human. We need to understand at a much deeper level how a wise person might emerge from the actions of non-wise neural networks. From insights gained there we might discern an outline for a form of government that transcends the weaknesses of humans.
Oh, and it isn't about the wisdom of the crowd metaphor either!
.